The ultimate in boilers control

Modern steam generators are required to satisfy even more and more stringent and challenging performances.
The reduction of environmental emissions, the increase of efficiency and reliability are key factors of steam boiler design approach.
Macchi is well known to satisfy clients and customers' needs and requirements: NOx and CO emission ever lower, variable fuels in quantity and composition and fast maintenance schedule allowing boiler continuously running sometimes for several years.
All these factors and others as well, lead Macchi to develop ABS system.
Macchi "Advanced Boiler Systems" is essentially based on several proprietary algorithms to operate boilers in a more efficient way under different perspective: operations, environmental emissions and predictive maintenance.
ABS may be applicable in new steam generators or in existing units of all brand and type.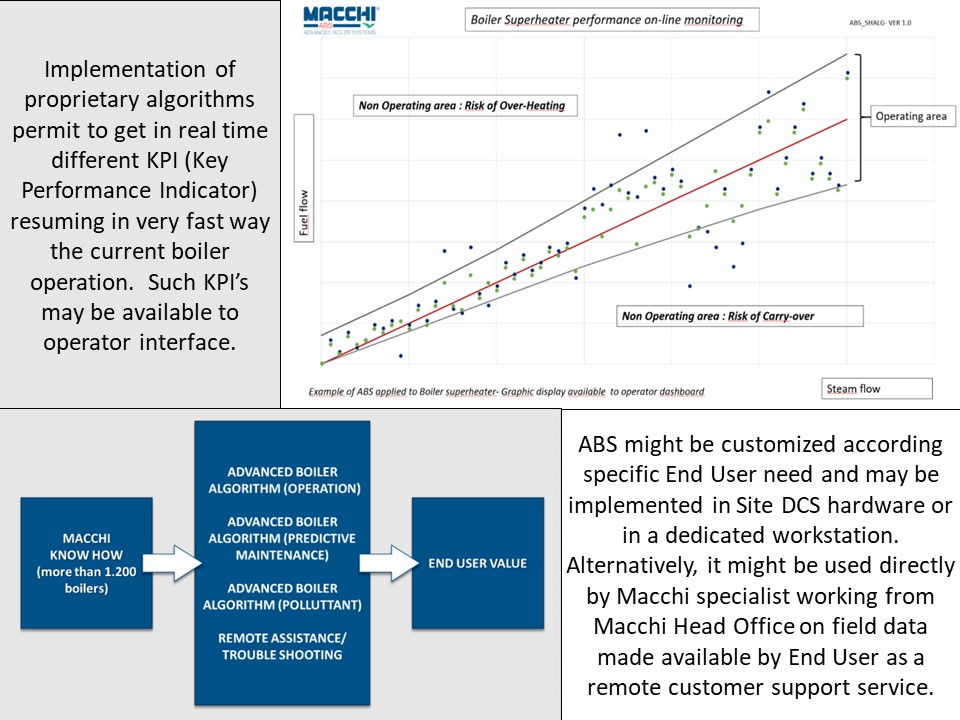 The advantages of ABS system are evident:
Direct availability of different KPI to operators and Plant Owner to get immediate feedback of boiler operation from different perspective. Such interface avoid analysis of huge amount of data made available by DCS
Get necessary information in boiler troubleshooting and maximize efficiency and performances with economic return
Adapt boiler operation to fuel fluctuation for those cases where fuel characteristics may be time dependant (e.g. variable heat calorific value)
Get an indication of boiler remaining life and understanding when boiler needs to be shut down for maintenance
ABS is environmental friendly since it allows to reduce pollutant and helps the use green fuels
Provide useful data to Macchi Head Office for remote assistance
Last but not the least, increase the knowledge of Plant staff about boiler operation
We do believe, ABS is the right and essential choice for End User to improve performances and reduce costs.
For more information about ABS contact MACCHI Engineering Department at macchi@macchiboiler.it.